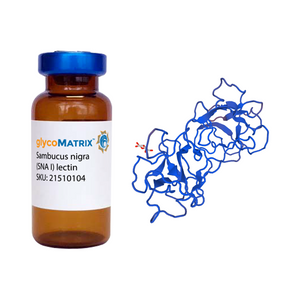 Sambucus nigra Lectin (SNA/EBL I) - Pure
Regular price $213.27 Sale
SKU# 21510104-1
Product Description
Sambucus nigra lectin (EBL I, also known as SNA I) is an isolectin isolated from elderberry bark. This lectin has a molecular weight of 140,000 and an isoelectric point between pH 5.4 and pH 5.8. It does not have blood group specificity.
EBL I belongs to the group of type 2 ribosome-inactivating proteins and is a chimeric lectin composed of an A-chain with enzymatic activity and a B-chain with carbohydrate-binding activity. It has a unique specificity for ?2,6-linked sialic acid residues, and elutes with the sugar lactose in buffered saline or acetic acid. This lectin induces caspase-dependent apoptosis at low concentrations (nM order), leading to typical symptoms of cell death in sensitive cells. This effect depends on the carbohydrate binding of the B-chain and is independent from the catalytic activity of the A-chain.
This product comes in a lyophilized form and is stored at -20ºC. Reconstitute with sterile buffer.
Technical Specifications
| | | |
| --- | --- | --- |
| Molecular Weight | : | 140 kDa |
| Synonyms | : | SNA/EBL I |
| Shelf Life | : | 2 years |
| Storage Temperature | : | -20°C |
| Hazardous Shipping | : | Non-hazardous |