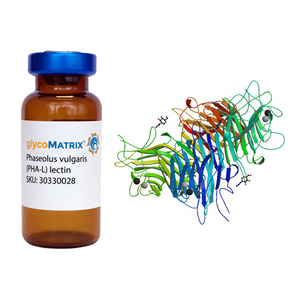 Phaseolus vulgaris Lectin (PHA-L) - Pure
Regular price $189.21 Sale
SKU# 30330028-1
Product Description
Phaseolus vulgaris lectin (PHA-L) is isolated from red kidney beans. It has a molecular weight of 126,000 and is made up of four subunits with an isoelectric point around pH 5.2. PHA-L has a carbohydrate specificity for complex oligosaccharides and elutes with bovine thyroglobulin or acetic acid. PHA-L is known as leucoagglutinin and has high mitogenic and leucoagglutinating activity, and low erythroagglutinating activity. This lectin exhibits no agglutination with human erythrocytes.
PHA-E differs from PHA-L in that the leucoagglutinin reacts strongly with Tamm-Horsfall glycoprotein and reacts weakly with porcine thyroglobulin. PHA-L binds to fetuin but does not precipitate the glycoprotein. This lectin is strongly inhibited by trisaccharide Gal ?(1,4)GlcNAc?(1,2)Man, and although this structure is present in many glycoproteins, PHA-L does not react with all of them. This lectin reacts strongly with certain carcinoma cell lines of high metastatic potential and has been proposed as a probable therapeutic agent. It has shown potential to inhibit graft vs. host reaction in transplantation studies and has also shown to promote the production of cytotoxic agents which could be useful in cancer therapy.
This product comes in a lyophilized form and is stable for more than three years when stored below -20ºC. Calcium and manganese ions are required for binding activity.
Technical Specifications
| | | |
| --- | --- | --- |
| Molecular Weight | : | 126 kDa |
| Synonyms | : | PHA-L |
| Shelf Life | : | 2 years |
| Storage Temperature | : | -20°C |
| Hazardous Shipping | : | Non-hazardous |