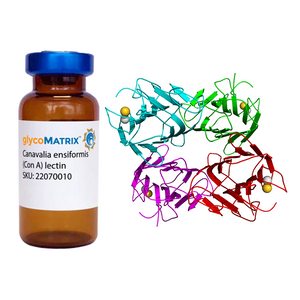 Concanavalin A Lectin (Con A) - Pure
Regular price $356.63 Sale
SKU# 22070010-1
Product Description
Lectin concanavalin A (Con A) is isolated from jack bean seeds (Canavalia ensiformis) and purified by affinity chromatography. Con A is composed of identical subunits of 237 amino acid residues (MW: 26,000 without any cystine residues) and while above pH 7 it is predominantly tetrameric, at pH 4.5 - 5.6, Con A exists as a single dimer MW: 53,000. Con A binds two metal ions per monomer: transition metals, Mn2+ and Ca2+. Both ions are required for saccharide binding with optimum activity at a pH 7.0. Con A binds with non-reducing ?-D-glucose, ?-D-mannose and ?-methyl-D-glucopyranoside acts as a competitive inhibitor. It has a carbohydrate specificity towards ?-mannose and ?-glucose, and elutes with Me?Man + Me?Glc.
Con A does not have a blood group specificity. It exhibits mitogenic activity with lymphocytes and cancer cells which aggregate by Con A; normal white cells do not. Normal cells react to Con A after proteolytic treatment which suggests that trypsinization causes clustering of the reactive glycan residues on the membrane.
Studies of Con A interaction with particular cell types include locust muscle fibers, adipocytes, and rat liver plasma membrane components. This lectin induces endoreduplication in mammalian cells and it reacts with E. coli, Dictyostelium discoideum and Bacillus lipopolysaccharides.
Immobilized Con A has been used in affinity chromatography purifications of a wide variety of glycoproteins and cellular structures.
This product comes in a lyophilized form and is stable for more than five years when stored below -20ºC. Calcium and manganese ions are required for binding.
Technical Specifications
| | | |
| --- | --- | --- |
| CAS# | : | 11028-71-0 |
| Molecular Weight | : | 104 kDa |
| Synonyms | : | Con A |
| Shelf Life | : | 2 years |
| Storage Temperature | : | -20°C |
| Hazardous Shipping | : | Non-hazardous |