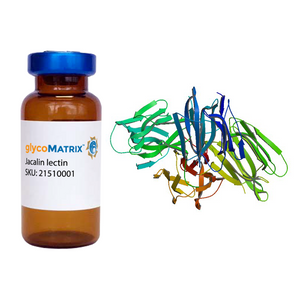 Artocarpus integrifolia Lectin (AIA) - Pure
Regular price $152.61 Sale
SKU# 21510001-1
Product Description
Jacalin lectin (AIA) is isolated from jackfruit seeds (Artocarpus integrifolia) and purified by affinity chromatography. AIA is a tetrameric two-chain structure consisting of four identical protomers and a molecular weight of 66,000, with an isoelectric point of pH 7.8. The lectin has specificity for blood group types O (+SA) and T.
Jacalin is considered a galactose-specific lectin and elutes with galactose or melibiose. A post-translational proteolytic modification of Jacalin gives the lectin a novel carbohydrate-binding site involving the N terminus of the ?-chain. The proteins structure explains its carbohydrate-binding specificity of T-antigen disaccharide Gal?1,3GalNAc. Potent inhibitors of jacalin include D-galactose, ?-Met-Gal and 2-deoxy-?-D-galactose.
This product comes in a lyophilized form and is stable for more than five years when stored below -20ºC.
Technical Specifications
| | | |
| --- | --- | --- |
| Molecular Weight | : | 66 kDa |
| Synonyms | : | AIA |
| Shelf Life | : | 2 years |
| Storage Temperature | : | -20°C |
| Hazardous Shipping | : | Non-hazardous |